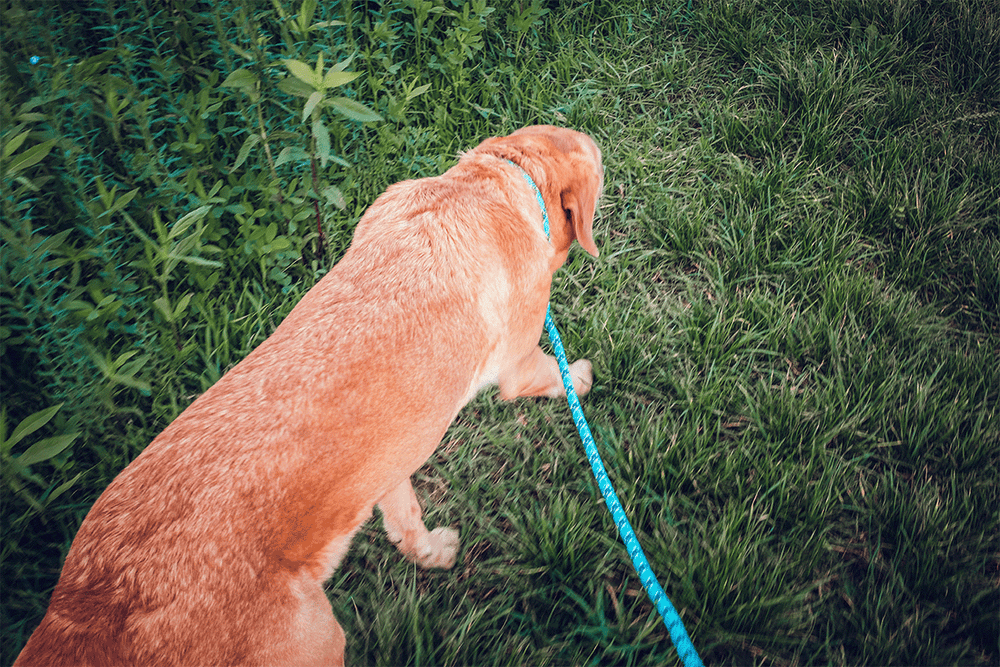 Walking your dog in the rain isn't always option number one, but sometimes it's all you got. If you live in wet areas like Seattle you're face with either walking your dog in the rain or not walking your dog at all. And which is worse?
In this post we'll show the best tips for dog walking in rain and how you can keep your dog healthy and happy.
View
Get a Good Raincoat or Poncho for Your Dog
Walking your dog in the rain can actually be quite fun for both of you, but you want to make sure your pup stays warm and dry. That's why investing in a rain poncho for your dog is essential! Not only do rain ponchos keep dogs warm, they also protect their fur from getting wet and matted. Plus, they are lightweight and easy to carry in your pocket or backpack.
With a rain poncho, you can keep on walking with your companion no matter how hard the rain comes down. Just make sure to check how the fit is before heading out into the storm.
Get a good leash that will stand up in all weather conditions
Rainy days can be fun, but how do you take your furry four-legged friend out into the wet weather? It's important to make sure that you have a good leash to get the job done.
One suggestion is to use a climbing rope dog leash like our Adventure Dog Leash, which is built to last and has been tested for both strength and durability. This type of leash is made from tightly woven nylon fibers that help protect it against abrasion or abrading and also repels water, making it machine washable afterwards.
The weight of it makes it perfect for throwing over your shoulder when going on long walks in the rain, so you can stay dryer while still enjoying quality time with your pup.
imgdogwalk
Bring Along an Umbrella to Keep You Both Dry
Walking your dog in the rain can be a great way to enjoy nature, but you should always bring an umbrella so that neither of you get soaked. An umbrella allows for a safe and enjoyable walk for both you and your pup because it will keep you both dry from the elements. Plus, how does anyone really want to get drenched from the rain after walking their pup?
It's not just about staying dry, though. With an umbrella, you also protect yourself from possible injuries. By bringing an umbrella with you on your rainy walks with your dog, you can keep both of you well guarded in dangerous wet terrain. Not only is this important for safety reasons, but it also offers comfort and security knowing that despite the weather conditions outside you still have some protective coverage.
Have Some Towels Ready to Wipe Off Your Dog When You Get Home
Going on a dog walk during the rain can feel like a chore sometimes, but it can be made much more pleasant if you make one key preparation beforehand. Before heading out in the rain with your pup, make sure to spread out some towels in advance so that when you get back home from your walk, you and your furry best friend can both dry off easily.
Though it will take a few extra seconds of prep before taking a stroll with your pup, doing this should save time in the long run as there will be no fussing around trying to find the towels after getting wet.
Be Careful of Puddles - They May Be Deeper Than They Look!
When walking your dog in the rain, it's important to be extra mindful of any puddles you may encounter. You never know how deep they actually are, and taking the time to properly assess the situation can help prevent a surprise soaking that neither you or your pup would appreciate. That doesn't mean avoiding all puddles - sometimes a splash or two is fun!
Just be sure to inspect each one to gauge how high the water might come up before marching on through. And if your four-legged buddy has an innate ability to jump into every puddle no matter how deep it might be, maybe try keeping them on a leash when out in the wet weather.
Final Thoughts: How to Walk Your Dog in the Rain
It's always best to be prepared for the unexpected, and that's especially true when it comes to walking your dog in the rain. A good raincoat or poncho for your pup, some rubber boots to keep your feet dry, an umbrella to stay dry together, and some towels at home will ensure you both get a pleasant walk despite the rain. If you're feeling inspired and would like more tips on how to make walks in inclement weather enjoyable for you and your pup, check out our ultimate guide to dog walking.